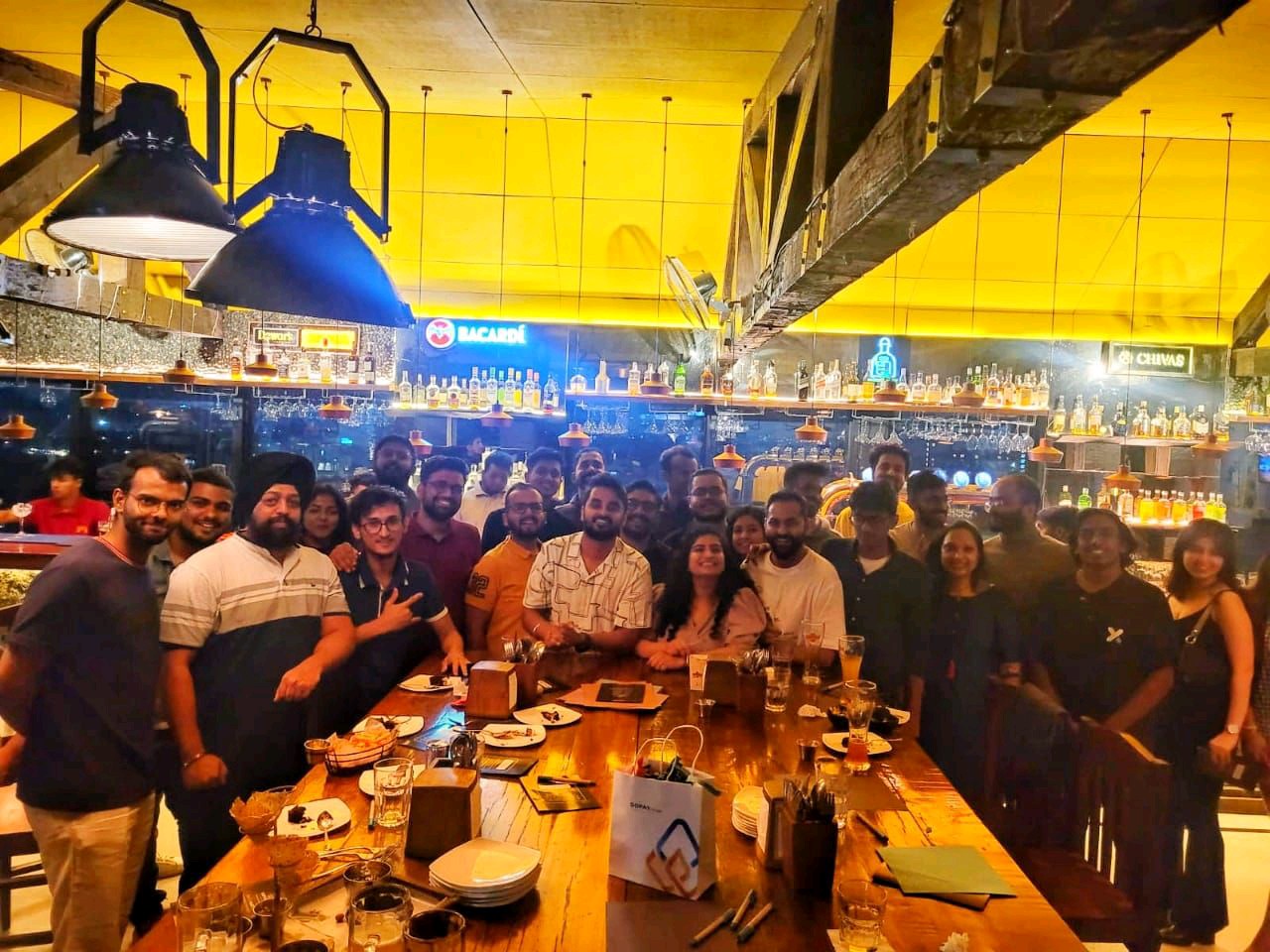 Oopar Club is a community-driven multi-channel platform that enables people to live their life to the fullest and maximize their personal growth. Too many fancy words? Well, let's break this down.
Did you ever start chasing a goal or challenge but leave it in between? Was it the healthy living new year resolution or writing a daily journal starting from your birthday? Or maybe 10000 steps every day or the resolve to quit smoking?
I am sure we all have taken up a goal and ended up leaving it somewhere in between with a self- placating excuse. "I have too much on my plate already from work", "I will take this up from next year", "It's ok if it didn't work; at least I tried", "This is not meant for me; I will find something else for myself".
Excuses aside, what makes it so difficult to pursue an important personal goal?
Our mission at Oopar is to create a community that helps you achieve all your personal goals by removing the biggest obstacles in your way – procrastination, lack of resources, not knowing the right people, having a well-defined plan, and only theoretical knowledge. At Oopar, you can connect with people who have the same goals as you, make meaningful connections with them by participating and indulging in various online and offline experiences.
Well, we will talk more about what Oopar does, but let's understand the problem at hand better.
What is personal growth and why is it important?
Personal growth is continuously investing in yourself to improve and unleash your true human potential (Yes, it is what every youtube tells you these days :)). It is a series of building good habits, upskilling yourself, gaining wisdom, and transforming yourself to become the best version of "you". Personal growth comprises various aspects like health and well-being, mindfulness, trying out new things, meeting new people and social and emotional well-being.
For a lot of us, our careers have become our life. Getting the next promotion and hike are our most significant goals. There is an ever-shrinking thin line between our professional and personal life. And this often results in personal goals taking a backseat. But here is why personal goals are just as important as professional goals, if not more –
They allow you to become the most extraordinary version of yourself.
They bring you health, wealth, and prosperity.
They take care of your mental well-being and bring calmness to your life.
They help you to develop a deeper relationship with yourself and everybody around you.
They help you live life to its fullest.
Well, if we believe that there is some sanity to the concept of life, I am sure it's not spending all your life sitting in front of a laptop, coming out of a meeting as you wait for the next one to start. It's supposed to be constantly improving and transforming yourself to find your meaning and realize your full potential. Most successful professional people also have a strong foundation for personal growth.
"And medicine, law, business, engineering, these are noble pursuits and necessary to sustain life. But poetry, beauty, romance, love: these are what we stay alive for."
― Tom Schulman, Dead Poets Society
How can you master your personal growth journey?

Unlike professional growth, personal growth does not follow a template. Though there are various online courses that we could recommend, courses and resources alone are not enough. Here is what more you need-
Setting clear and achievable goals that matter to you – People often pick up goals that society – and not they themselves care about. It is imperative to identify areas of your life that you want to improve upon and the outcomes you would like to realize with a deep understanding of the "why" behind them.
Building a community around a goal – Once you have zeroed in on a goal, it is essential to find people who have similar goals in life. This helps you learn from each other's experiences and brings motivation, accountability, and joy to the process. Surrounding ourselves with like-minded people is the single most powerful thing we can do. This is what synergy is all about!
Learning through experiences – Though online courses and podcasts are an excellent way to start, you cannot learn to play cricket by watching someone play or talk about it. You must get out on the pitch and swing the bat or the ball yourself. It's the same for personal growth. It is different for everyone, and only when we experience something can we know what it means for us. Experiential learning, especially done together with others, makes the process super fun and insightful.
Building a growth mindset – Last but not least, we must believe that our talent, intelligence, skills, and abilities are all learnable and can improve with effort and discipline. Good things take time, but they happen if we are patient and resilient enough. Believe in yourself and keep pursuing, and it will eventually happen.
Well, if you haven't guessed already, we at Oopar help you with all these things in one place. It's a club of you, for you, by us 🙂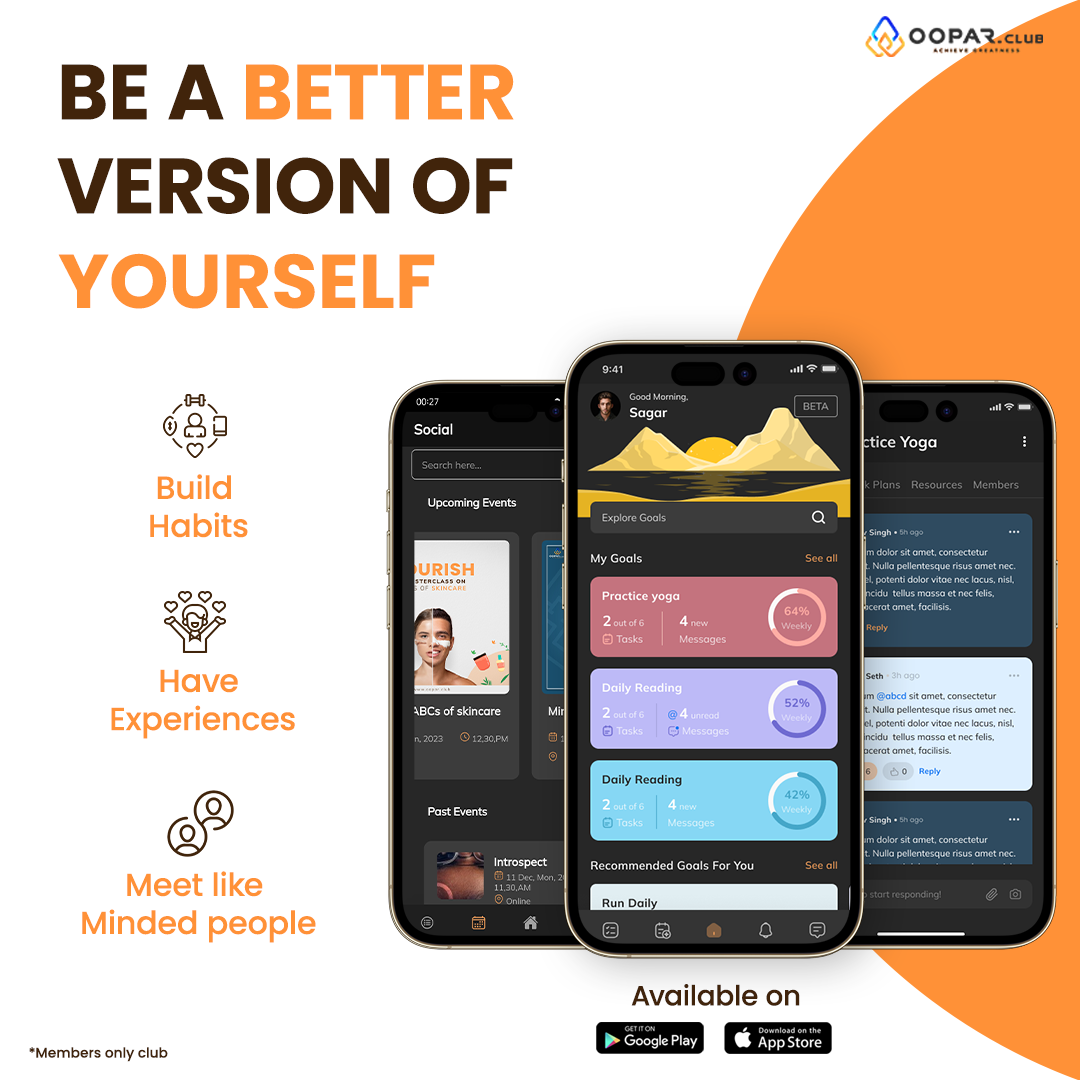 Use our app to explore your passion(s) and convert them into achievable goals.
Connect with a group of growth-minded individuals who will help you achieve your goals faster.
Participate in our digital competitions and events that will tickle your mind and bring out the best in you.
Meet "your people" in person as you experience something new together.
Get rewarded for helping each other out, and we will let the world know how awesome you are.
We hope you are as excited as we are and that together, we become a community living a more fulfilling life, one person at a time. The only way from here is "Oopar" and beyond.