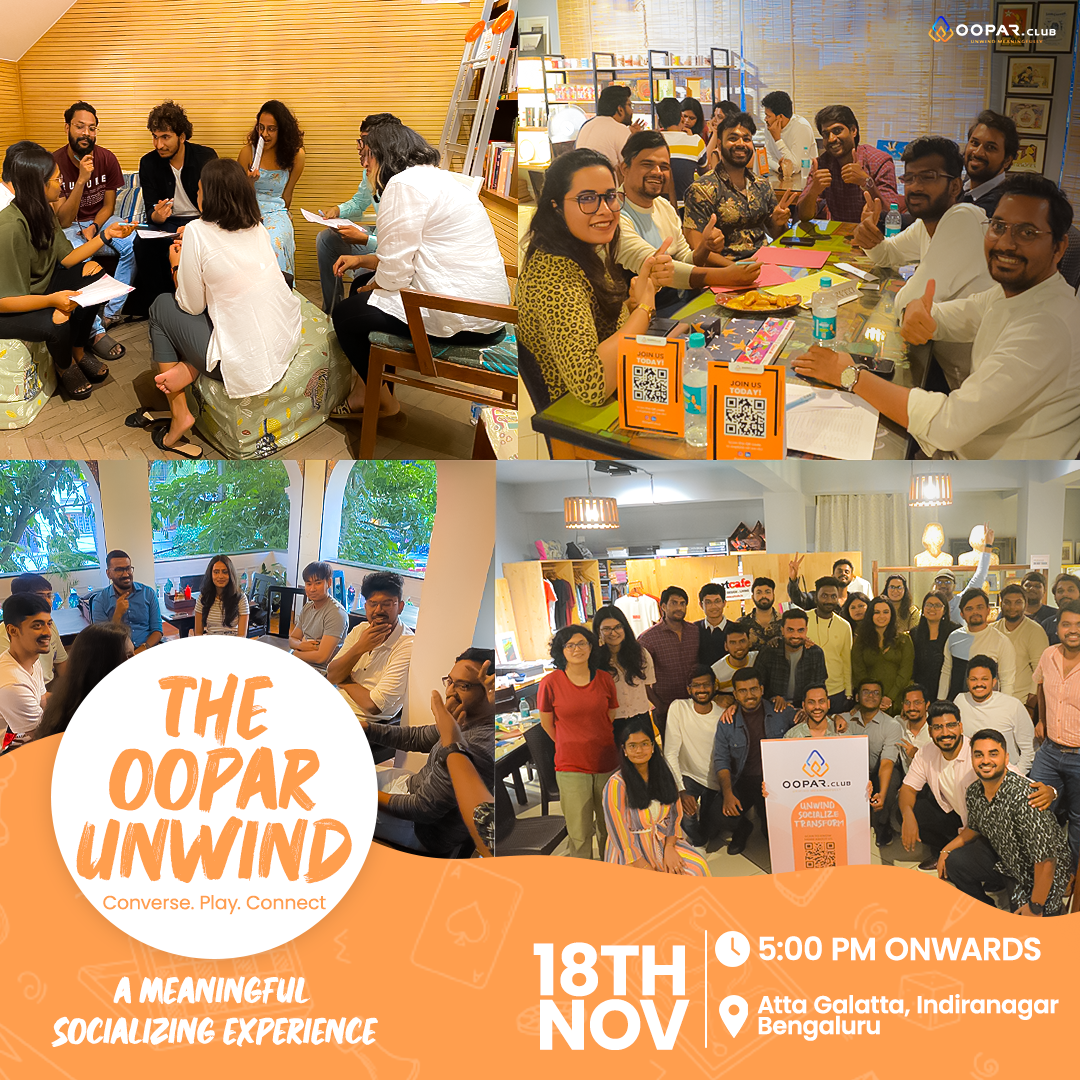 OOPAR EVENT
The Oopar Unwind - Bangalore

Atta Galatta, Indira Nagar
Hey there! Tired of your daily grind? Oopar Unwind is all about taking a break from the usual and having a blast with some cool people. It's your chance to relax, meet new friends, and have some meaningful chats.
What's the deal?
👋 Ice Breakers: We'll kick things off with fun ice breakers to get you chatting with everyone.
💬 Real Talks: Connect with folks who share your interests. We can talk about life, philosophy, or whatever matters to you. You can even share ideas anonymously if you want.
🎲 Get Creative: Express yourself not just with words but also through fun activities like Lego and art.
🎁 Surprises Galore: We've got a few surprises up our sleeve to make your evening even better.
Who should join?
If you're tired of scrolling through social media or binge-watching shows, Oopar Unwind is for you. Whether you're new in town, want to make new friends, or just want some genuine connections, this is your scene.
Don't miss out on a chance to relax, socialize, and connect. Grab your spot at Oopar Unwind today! 😊
Superpowers Gained
Instructions
1. Tickets once purchased are not refundable but can be passed on to someone else after informing us.
2. The organizers shall not be liable if any participant withholds or gives incorrect information about themselves.
3. You should be respectful and warm towards other participants and organizers.
4. By registering for the event you understand that the organizer reserves the rights to photograph and record the event and share it for marketing purposes on all social media platforms, website, app and any other medium.
5. We are only providing a platform for people to come together and network. Anything that happens between them shall not bear any responsibility on the organizers.
6. Please take care of your belongings; the organizers are not liable for any losses or damages.
7. By registering for the event you have given your consent to adhere to these terms and conditions.