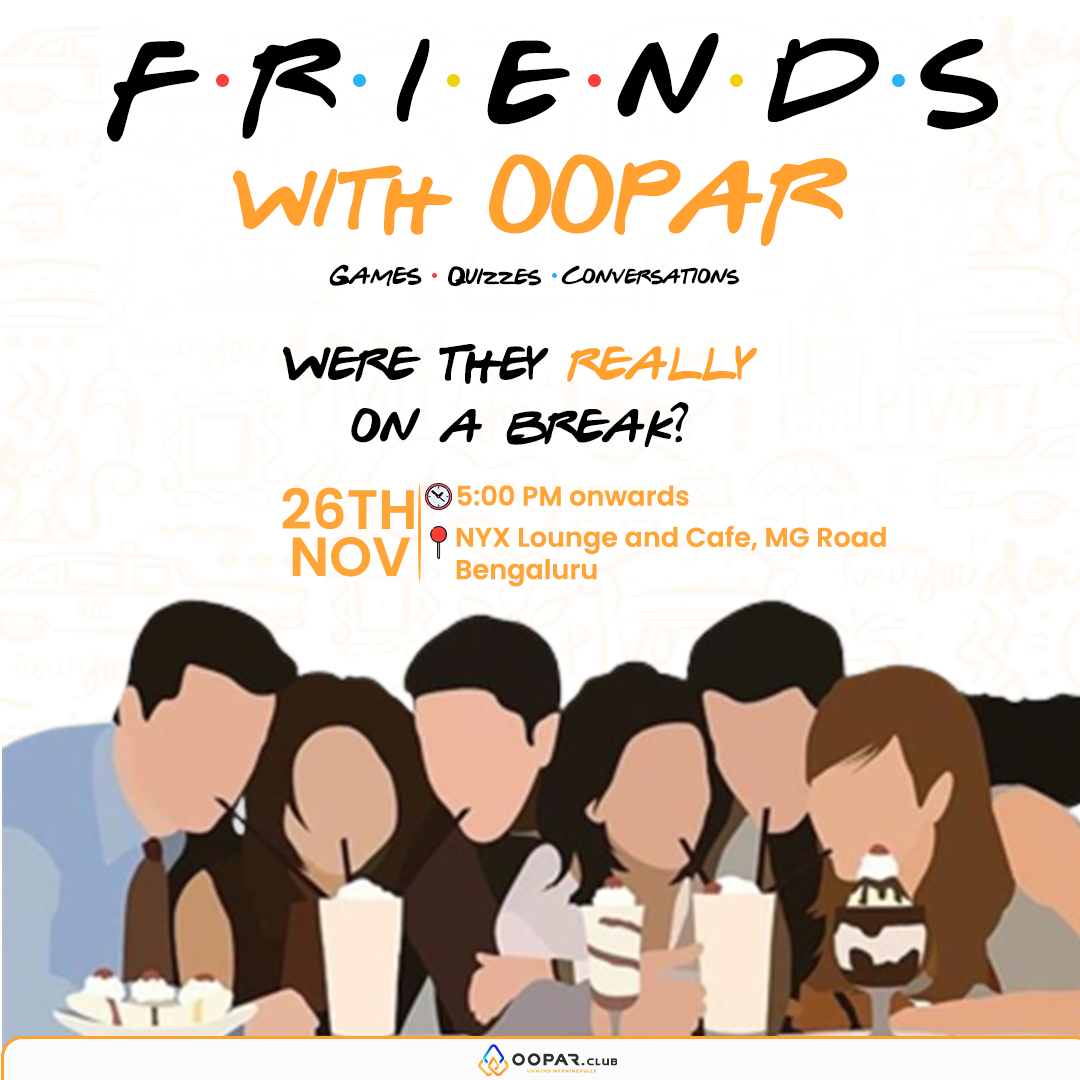 OOPAR EVENT
F.R.I.E.N.D.S. with Oopar - Bangalore

NYX Lounge and Cafe, MG Road
Ohh myyy goooood, can we BE more excited about a meet-up? 🤩Introducing an evening filled with pure F.R.I.E.N.D.S. joy.
What's gonna happen?
Themed games, quizzes, conversations and a lot of discussions to relive our favorite friends memories. You can also win exclusive F.R.I.E.N.D.S. merchandise created by Oopar.
Trust us, there won't be a better chance to meet new fans who are as passionate for the show as you are.🫂
Ps: this is also our way to pay tribute to our beloved Chandler aka late Matthew Perry.
See you there ✨
Superpowers Gained
Instructions
1. Tickets once purchased are not refundable but can be passed on to someone else after informing us.
2. The organizers shall not be liable if any participant withholds or gives incorrect information about themselves.
3. You should be respectful and warm towards other participants and organizers.
4. By registering for the event you understand that the organizer reserves the rights to photograph and record the event and share it for marketing purposes on all social media platforms, website, app and any other medium.
5. We are only providing a platform for people to come together and network. Anything that happens between them shall not bear any responsibility on the organizers.
6. Please take care of your belongings; the organizers are not liable for any losses or damages.
7. By registering for the event you have given your consent to adhere to these terms and conditions.